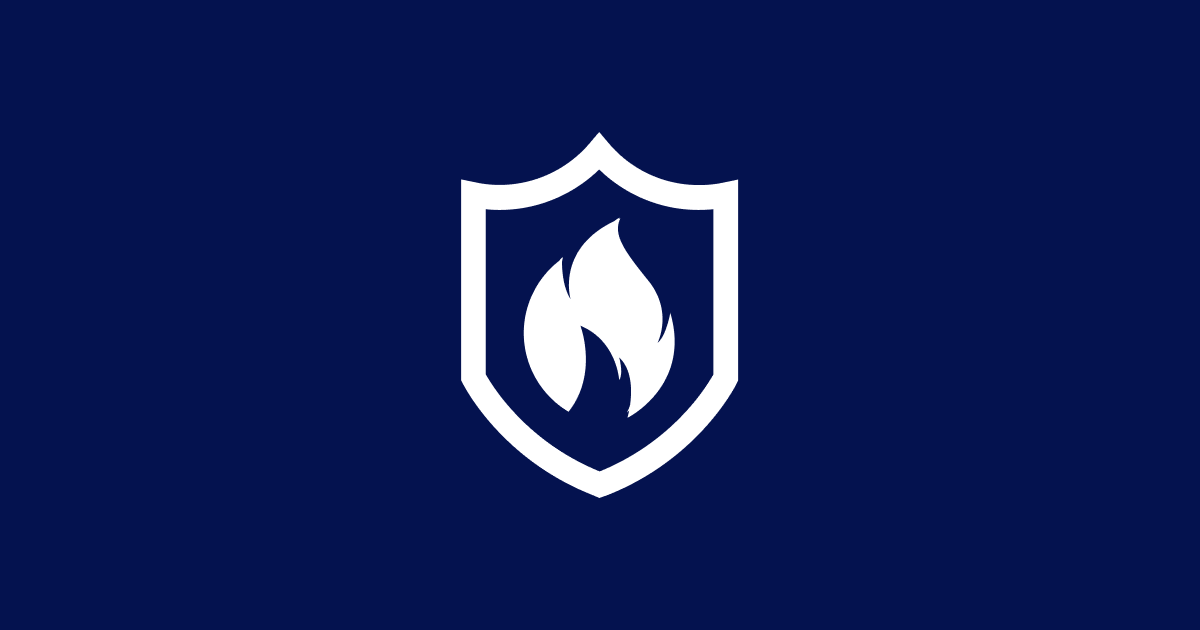 We're Expedited Security. We help SAAS applications prevent and recover from attack, overcome regulatory or integration security requirements or just stop "weird" traffic before it becomes a problem.
Symantec's 'Seal in Search' uses a browser extension that injects logos into Google search results:
Sites whose owners have purchased Symantec SSL certificates get 'Norton Secured', that shows the site is 'SECURE' when the mouse cursor hovers over them. They also get an 'OK' logo that reveals the site is 'SAFE' when the mouse cursor hovers over them.

Sites whose owners have not purchased Symantec SSL certificates just get the 'OK' logo that shows they are 'SAFE'. They do not get anything which shows they are 'SECURE'.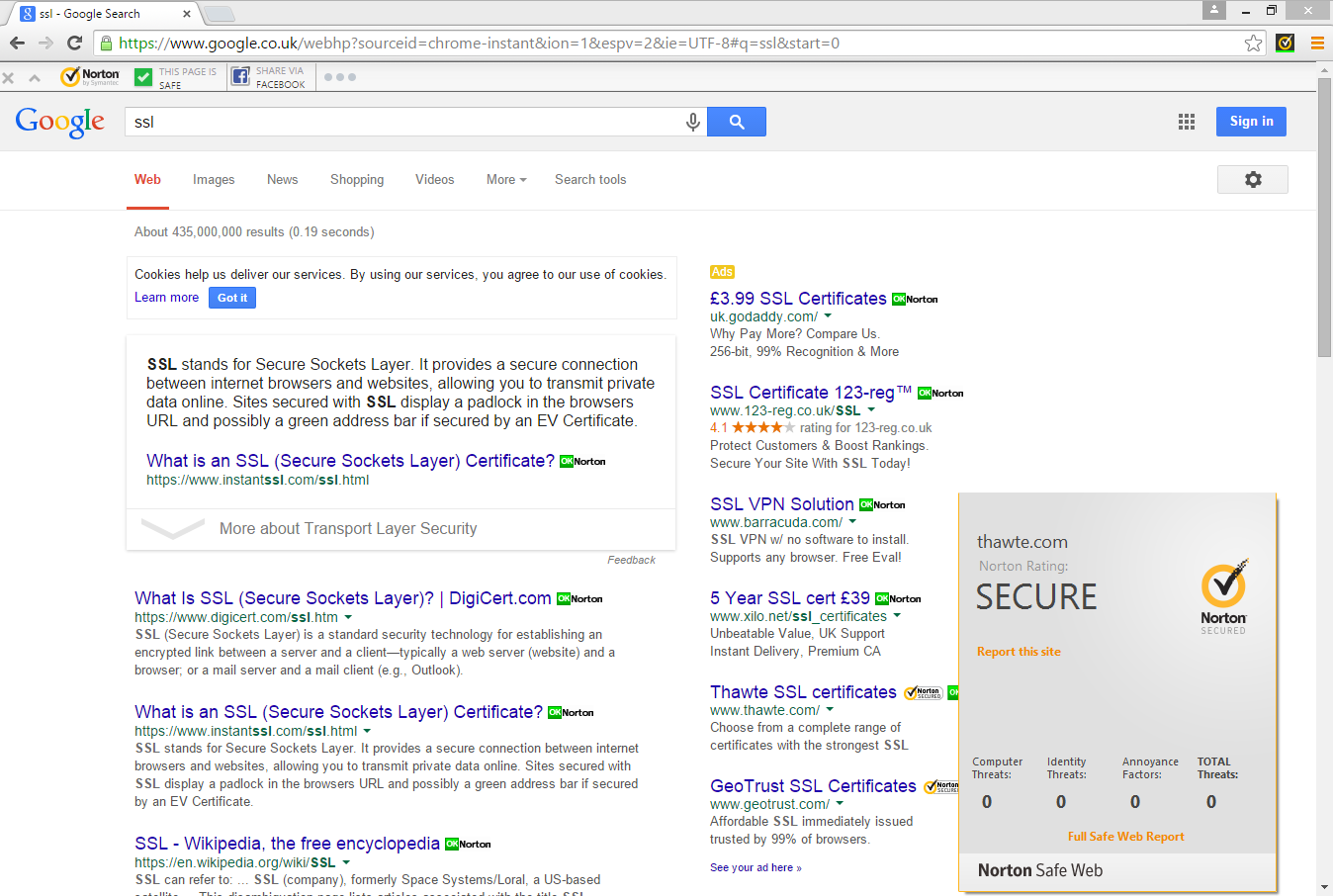 The 'Seal In Search' browser extension, installed by Norton Identity Safe. Sites with Symantec brand SSL certificates displayed as SAFE and SECURE. Sites with other brand SSL certificates are displayed as SAFE only.
Seal in Search
Seal in Search is not SEO as traditionally defined: the logos are injected on a small portion of user's machines, and do not affect actual search engine rankings.
However being able to show these logos to customers with the relevant browser extension is marketed as one of the benefits of purchasing an SSL certificate from Symantec.
Symantec recently published Raise your Google Ranking with Symantec. There's some genuinely useful stuff in there - such as the presence of SSL affecting SEO, and how using ECC can lower time to first byte - the latter of which works out for Symantec, as Symantec charge more for ECC certificates.
There's also this: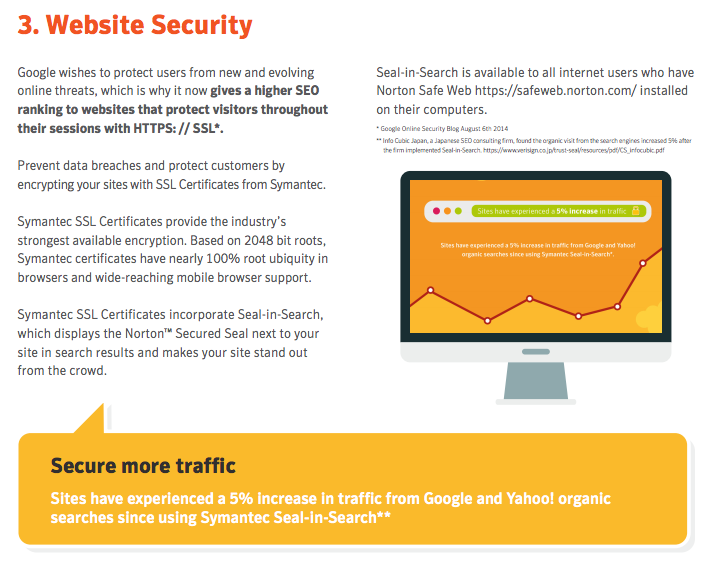 Secure more traffic: Sites have experienced a 5% increase in traffic from Google and Yahoo! organic searches since using Symantec Seal-in-Search**
That's interesting. The '**' links to the small text you can see above the monitor:
** Info Cubic Japan, a Japanese SEO consulting firm, found the organic visit from the search engines increased 5% after the firm implemented Seal-in-Search. https://www.verisign.co.jp/trust-seal/resources/pdf/CS_infocubic.pdf
So that very big claim about 'seal in search' is based on a sample size of one. Symantec's linked reference was in Japanese - here's a full translation:
SEM professionals recommend Symantec safe site: visits from search engines increase by 5 percent.

Info Cubic promoting it's global marketing

Info Cubic Japan (subsequently referred to as Info Cubic) was established in 2007 as a branch of the Info Cubic company, which was founded in 2002 in the U.S.

Having multilingual search engine marketing as its the major business, Info Cubic Japan has been awarded prizes including the best SEO/SEM in Japan by ranking site 'TopSEOs' in 2011. It is well recognized in the SEO/SEM field. It's taking full advantage of its bilingual staff members to promote its global marketing.

The demand of SEO for multilingual websites increased sharply

As Japanese companies get more active abroad and foreign companies come to Asia, it has become necessary for those companies that are active globally to have a set of search engine strategies and search engine marketing plans that match the characteristics of their target countries. Info Cubic, strong at multilingual SEO, started to target small and medium companies and has recently given suggestions on global marketing to large and mid-size companies that have an interest to begin business in languages other than Japanese.

Info Cubic used strategies, such as updating the website and increasing the frequency of press releases, to increase access to its website. In this process we noticed one of the functions of 'Symantec Safe Site.' This function is called 'seal in-search' which shows 'Norton Secured seal,' a sign recognized by 75 percent of the customers in the search results on Google/Yahoo/Bing/goo/OCN. Even though Info Cubic has its SEO strategy for its own website, it feels the great merits of the function of showing Norton Secured seal in Google search result and decided to adopt it.

"Sometimes I see a few marks from other companies, but very few of them show in search results. A global company like us will certainly choose a globally-known brand like Symantec. A good reputation abroad and supporting multilingual websites are great merits of Symantec," says representative director, Mr. Yamagishi.

Visits by search increases by five percent. Achieving a comprehensive SEM with SEO and seal in-search

The actual effectiveness of seal in-search is visible. Comparing the site access two weeks before and after Info Cubic's adopting the Symantec Safe Site, the access to the site from search engines like Google and Yahoo increased by five percent. There are also key ads that attracted a lot more clicks. "For a company site with access from abroad, the display of a seal from Symantec, which is recognized globally could help us assure the visitors. The comprehensive SEM, combining SEO strategy provided by our company that makes your site to show up on the top of the searching results and using the Norton Secured Seal, is going to be bigger in the future, I think," says Ms. Hiramatsu.

Development in the future

At Info Cubic, we consider the consistent branding of a website and increasing access from abroad very important.

Lastly, Mr. Yamagishi says that "we will carry on with the display of Norton Secured in the search results.

He also express the hope that Symantec can better measure the value the customers.

Symantec will carry on preserving its value as a global, universal brand.
Hrm, so results were achieved, quoting: 'with SEO and seal in-search'. Specifically:
Updating the website
Increasing the frequency of press releases
Using Symantec Safe Site
Visits by search engines apparently increased by five percent.
So Infocubic adopted common SEO practices, and brought a Symantec SSL Cert which showed Symantec logos beside Symantec SSL sites for some users with installed Symantec products.
We suspect the well known SEO practices may have been a more significant result in the uplift than appealing to users with the Seal In Search plugin.
We weren't the only ones to notice. Shortly after that conversation the Info Cubic report went missing from Symantec Japan's website.

Symantec's SEO guide that references it however is still up.